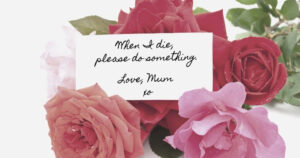 The magical "pop" of a champagne cork is my mother's favourite sound in the world. Her second favourite? Anything that inspires her to dance.
Upon her request, my mother's funeral will include a ceremonial champagne uncorking followed by Donna Summer's "Last Dance." She gets a little giddy when we talk about all the bubbles that will flow at her funeral celebration. "It sounds like SO much fun," she exclaims with a big grin until she realizes that she won't be able to join in the festivities. So, we pour her another glass of champagne and all is well.
Maybe your life celebration includes disco dancing and champagne like my mother's? Or perhaps, like my dad, you'd like your golf buddies to get together and have a game on you, complete with personalized golf balls and a ceremonial first drive? Whatever your wishes, it's your celebration and there are no rules.
In this presentation, I will help guide you through the steps to start planning your Meaningful Goodbye.