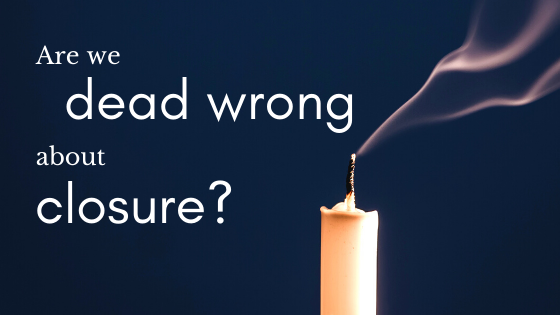 "But why do I still feel so sad," he asked, his damp eyes circling mine for an answer.
I took hold of the strong hands belonging to the man I adore and struggled to find words to reconcile his broken heart.
"Honey, your mother died. You're supposed to feel sad."
I watched as relief slowly washed over his pained face. "I thought something must be wrong with me," said my usually upbeat and optimistic husband. "I kept waiting for some kind of closure."
And there was that word again: Closure.
As someone who has listened to my rants for years now, I was surprised that even my husband was wooed by that pervasiveness word.
He continued: "But we did everything we were supposed to do."
It's true; we did. We composed a meaningful obituary full of stories from her life, which ended only three months after her cancer diagnosis. We allowed family and friends to say goodbye to her before her body was cremated. We held a visitation at the local funeral home and used her beloved jewel and scarf collection to decorate the inside of her open casket. We purchased a picturesque cemetery plot next to a pond and water feature that she would have loved. And, fulfilling her wishes, we hosted a memorial in the springtime, which commenced with Elvis singing "Can't Help Falling in Love" as her best friend escorted her urn down the aisle.
Rich in symbolism, rituals, and storytelling, much love was poured into that meticulously planned day in April, the beauty of which resembled more a wedding than a funeral. That heart-opening day gifted us with time to celebrate her life and mourn her death. It fostered connection and created much-needed space for tears, laughter, and memories. It nurtured hope while giving us a place to go with our grief and our love.
But it did not close anything.
We close deals and books and windows, but what exactly are we supposed to close at a funeral? Closure is a bad word used to describe something that is not likely ever to happen—and certainly not in one day.
My husband, however, longing for life to go "back to normal," was desperate to believe that he would wake up one day and this magical thing called "closure" would fill the empty space in his heavy heart.
But really, how is it possible for life to go back to normal when you've watched the woman who gave you life take her last breath? And what does normal even look like when the person who made life normal is no longer alive to live life with you?
When someone we love dies, the love we feel for them continues to live for as long as we continue to breathe. Why would we want to deny that love the air that it needs to survive by trying to close it somehow? Why would we want to close anything to do with our loved one?
No, grief is something we learn to walk with over time. And just like the memories we will always hold, grief is something we carry, not close.
So if closure is not the goal of a funeral, what is?
I have always believed that funerals provide an opening, not a closing. Our eyes are open to accept the reality that someone we love is no longer in our physical world. Our arms are open to offer and receive comfort and support. And our hearts are open to begin to accept the possibility that life will go on.
Funerals can help us say goodbye, but they also open a door so we can say hello to the lifelong journey of love—and grief—that lies ahead. Maybe the goal of a funeral should be to crack us open, not seal us closed. As Canadian singer-songwriter Leonard Cohen said, "There is a crack, a crack in everything. That's how the light gets in."
At the time of this writing, we are approaching the third anniversary of my mother-in-law's death. My husband has discovered that joy and sorrow can coexist—often in the same moment. And although we still expect to see her little body prance across the tiny bridge that joins our two cottages, we have begun to make peace with her physical absence.
We miss her and love her as much as we always did, but grief no longer leads the way on our journey. It walks beside us and always will because it lives with the love that we keep alive with our every breath.
Her light is everywhere, but closure is nowhere to be found.
* * *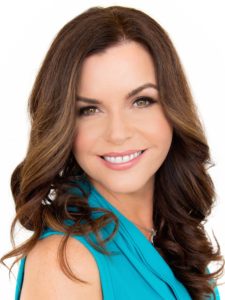 AUTHOR: LINDA STUART

Linda Stuart is a Life-Cycle Celebrant/Officiant and Speaker located in Toronto, Ontario. Specializing in funerals and weddings, Linda's passion is bringing stories to life through meaningful ceremonies.
You may also like: Funerals, God And Why We Need Ceremonies | 10 Things I Wish You Knew About Funerals| When I Die, Please Do Something