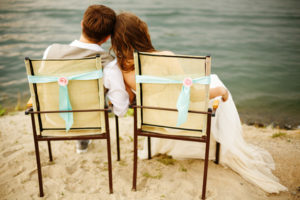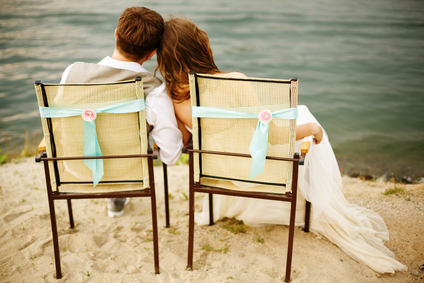 When my husband and I were wed in 2004, Celebrants were really not a "thing" in Toronto and Life-Cycle Celebrants were virtually non-existent. So what did we do? With David's input, I wrote our ceremony, beginning to end and handed it to the officiant at our rehearsal party. He was an older gentleman, who had been leading wedding ceremonies for years, and I could tell by the expression on his face that this was a first. But the ceremony was the highlight of our day and we wanted it to be exactly as we wanted it to be, so there really was no other option than to create it ourselves.
I know that planning a wedding is no small feat. With countless details to ensure are picture perfect, it's easy to get lost in the mountainous to-do list. But remember, the ceremony is the heart of your wedding day — don't let finding the perfect officiant fall to the bottom of the heap!
Here are 5 reasons to co-create your dream ceremony with a Life-Cycle Celebrant:
You Want Your Ceremony to be YOUR Ceremony
You've moved mountains to infuse your personalities throughout your memorable day and you want a ceremony that puts your unique love story front and centre. As a Life-Cycle Celebrant, I don't use any templates, I don't fill in the blanks and I certainly don't just show up and read! What would be the fun in that? Instead, every ceremony I write and deliver is hand-made for the individual couple that stands before me. Every element of your ceremony is designed only after I get to know you (and there are no rules!) You can share your love story, honour your family, pay tribute to your heritage, and include music and readings that best illuminate your personalities. You can include century-old rituals – like the unity candle – or create one-of-a-kind original rituals by including personal symbols unique to your lives and relationship. You can write original vows that reflect the promises that matter to your marriage. The sky is the limit!
You Believe the Ceremony Is More Important than the Flavour of Your Cake
Don't get me wrong: I love cake. Really, I do (especially lemon with buttercream frosting). But your ceremony, your vows and the way you, your fiancé and your guests feel during your ceremony will endure long after your gorgeous wedding cake has been devoured. Unique and personal love ceremonies that create connections and evoke emotions will bring you, your family, and your friends a lifetime of memories.
Being In Complete Control Is Important To You
On your wedding day, some surprises (like sparkly things!) are always welcome while others, not so much. When you work with a Life-Cycle Celebrant, we not only listen to what you want but also what you don't want and ensure that you have final approval over every aspect of your ceremony. Life-Cycle Celebrants are trained to focus on the values and priorities of the clients so that the ceremony is a reflection of you and your uniqueness. I never bring my personal beliefs into the process of designing your wedding therefore nothing is ever imposed on you, giving you complete control from beginning to end.
Digging Deep Makes You Happy
The ceremony is the heart of your wedding day and so yes, a little digging is required to produce an experience that is memorable and authentic. And, the process itself can emotionally help to prepare and transport you with intention throughout the next chapters of your love story. A creatively written and beautifully delivered wedding ceremony can help set the stage for a deep and thriving marriage.
Partnering with a Ceremony Specialist Just Feels Right
Life-Cycle Celebrants are experts in ceremony design and creation and the art of ceremonial public speaking. I have been rigorously trained in the history of ritual and ceremony and the traditions of many cultures, beliefs, and religions. I believe in the power of ceremony and bring that passion to you when creating a ceremony that reflects your beliefs, backgrounds and personalities.
You CAN have the wedding ceremony of your dreams and working with a Life-Cycle Celebrant will ensure your ceremony is truly magical!
Click here to learn more about a Life-Cycle Celebrant led wedding ceremony and book your Life-Cycle Celebrant today!
SaveSave