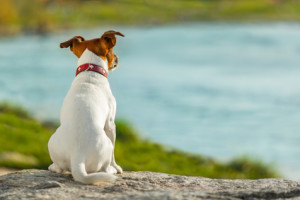 "Linda!" my mother shouted from the kitchen. "Come quickly–something's wrong with George!"
Like many eight-year-old girls, I had pleaded for a puppy (a pony would have also worked). But my Dad had brought home George instead, and it was love at first sight. George wasn't cuddly, but as his cool, wrinkly little feet wrapped themselves around my finger, he would let me gently stroke his feathers. He didn't bark, but he was gifted with a skill far more impressive: he could talk.
George: Our beloved green and yellow pet budgie. Despite his bony, miniscule frame, his personality was vast and we all adored him. For the most part, George resided in our kitchen. But occasionally he would take flight to other rooms in our house, particularly in the evenings, when he would sit on my father's shoulder in the family room. Where, yes, he sometimes pooped.
My father taught him to talk. In fact, we're all pretty convinced that George picked up my dad's Scottish accent. "Pretty boy. Pretty pretty boy," he would say over and over again as he pranced in circles around the kitchen counter while pecking his beak on the chrome-mirrored face of the toaster. More than once, we caught George perched on the edge of my dad's whisky glass, dipping his beak into the liquid gold. Oh yes, there was definitely some Scot in little George.
I was 18 years old the morning my mother called up to tell me something was wrong. She had found him lying on the bottom of his cage. I ran downstairs and found my younger brother cradling our still-breathing sweet bird in his trembling hands. Panicked, I called the vet: "I think my pet budgie is having a heart attack – I'm on my way." But they told me not to bother. "Can't you do surgery?" I pleaded. But before they answered, my brother gave me the sad news: "Linda, he's dead."
George was not just a budgie. He had been a member of our family for ten years. We taught him to say "Hi Baldie!" when my grandfather came to visit from Scotland (Grandpa thought it was hilarious.) George also said some other things that I cannot repeat, but trust me, they were funny. He entertained us with his antics, he charmed us with his sweetness and whether he really did or not, we felt he loved us. I know we loved him.
So my brother and I decorated an old shoebox and lined it with the cozy blanket we had always covered his cage with at night. We gently placed him inside, surrounded by the little toys that had hung in his cage and a few of his favourite treats. We dug a small hole in the backyard and there, we laid George to rest.
Today, I am a pet parent to Bailey, my fluffy, white bichon. The running joke in my family is that I love him more than my children and husband combined. While that's not true (although I will admit some days it's a tie), I truly can't imagine life without him. His gentle presence, unwavering loyalty, and sweet disposition help me celebrate my life every day. So you can bet I will celebrate his when he dies.
As a Celebrant, I understand that love is love and comes in all shapes and sizes. When a human we love dies, marking and celebrating their life is an important part of our journey towards acceptance and healing. Why should our beloved and devoted pets be any different?
Here are some meaningful ways to celebrate and honour the lives of our pets:
Design a Shadow Box
Don't toss your pet's mementos, memorialize them. Place toys, collars, dog tags, leashes, and maybe even the odd chewed up slipper into a shadow box you can display in a place of honour.
Organize a Memory Sharing
A simple backyard gathering is a meaningful way to remember and honor your pet's life. Gather those whose hearts are also breaking, light a candle in your pet's honour, pour some wine, and share your memories (maybe even snack on his favourite "people food.") 
Commission a Tribute Tale
Fellow Life-Cycle Celebrant Dorry Bless can create a "Tribute Tail," a written remembrance telling the personal story of the cherished lifetime you shared with your dear pet.
Create a Scrapbook or Photo Album
If you're like me, you have a whole album on your laptop dedicated to your furry (or feathery) pet. Why not spend a weekend designing a scrapbook, and transform those digital images into a tangible bound reminder of your time together.
Plant a tree
Dogs love nothing better than a good tree to pee on. Why not plant one in his honour? Make it a special, meditative place with a bench or an inscribed memorial stone at the base.
And while your heart is healing, be grateful as you remember the wise words spoken by poet and journalist Anatole France, "Until one has loved an animal, a part of one's soul remains unawakened."
* * *
Linda Stuart is a Life-Cycle Celebrant / Ceremony Officiant located in Toronto, Ontario.