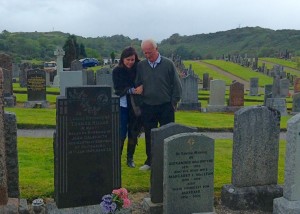 I heard the key rattle in the front door and bolted from the kitchen table. Cartwheeling (for real) my way down the hall to the front door, I arrived just in time to leap into his arms.
My Dad was home.
A self-proclaimed "Daddy's Girl," I have always adored him. I'm not alone. As a schoolgirl, my elementary teachers were giddy at the thought of him appearing on parent/teacher night. It made me feel special in a strange sort of way.
But his Hollywood good looks, witty sense of humour, and impressive intellect were no match for his always smiling eyes, compassionate nature, and optimistic outlook on life.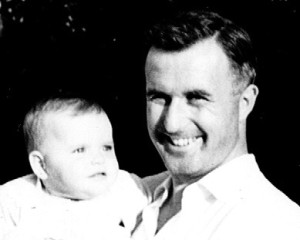 Born and raised in Glasgow, Scotland, my parents have charming accents although regrettably, with every passing year, they have come to sound a little more Canadian, eh. And while they are grateful for their Canadian citizenship, they are proud Scots to the bone.
As a child, I was fortunate to visit the beautiful country many times during the summer with my mother and little brother. As a budding entrepreneur, my Dad stayed home to run his business. And to golf. I'm pretty sure he golfed a LOT during the six weeks we were away.
Immediately upon exiting the plane, my mother would close her eyes and exaggeratedly inhale, "Smell the fresh air kids – just SMELL the fresh air!" My brother and I would roll our eyes. It just smelled like air.
We would stay with my maternal grandparents in the tiny Glasgow home that my mother grew up in. Being in that space and re-visiting places from her childhood inspired hours of storytelling and I always had a grounded sense of where she came from.
My Dad, in contrast, never spoke much about his days in Scotland. My paternal grandfather died when I was just a baby. My Dad was 17 when his mother lost her life to a long-term illness at the age of 45. She had been ill for most of my Dad's life.
Fearing it was perhaps an unhappy time for him, I resisted the urge to prod at my usual level. With barely a handful of precious photos, I knew very little of his childhood and this left me feeling somewhat incomplete.
The answer: A trip to Scotland.
My Dad was 76 when we made our way back to his native land in September of 2013. It had been 25 years since my last visit. My Mom was right: the air was fresh and smelled, well, different.
We rented a car in Glasgow and started our journey to my grandmother's hometown, Oban. A quaint seaside village, known for its freshly caught fish and home to one of Scotland's oldest whisky distilleries, this was where my father spent countless summer days as a wee boy.
Our first stop – Pennyfuir Cemetery.
Arm in arm, we stood in front of the black granite gravestone on my grandmother's grave. I fixated on the words "Aged 45 Years." My life had already expanded two years beyond hers. I could not imagine having to say goodbye to my sons as she did.
Silently, I thanked her for gifting me with the man I was lucky enough to call Dad. I told her she would be so proud of him for his kindness and generosity and all that he's accomplished. That he had children and grandchildren who adored and respected him. Finally, I promised her I would take care of him, just like he no doubt wished he could have done for her.
We left the cemetery and headed to the beach my father had paddled in as a young tot. Standing on the concrete pier, he pointed to an old tattered swing-set off in the distance. "My brother and I used to play on that," he beamed.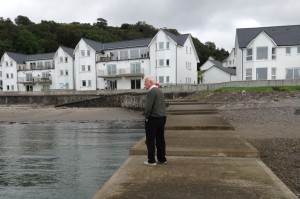 We ended our journey back in Glasgow with a tour of his boyhood paper route and a visit to the little house he was born and raised in. He was delighted to see that the brick ledge that he built as a teenager still proudly stood by the front door.
Knowing more about the life that shaped a boy into the man who would eventually shape me gave me a full-circle sense of completeness. And as we travelled, that empty place inside me that knew nothing of my dad's childhood was slowly filled with story. Stories that gave birth to new stories. Stories that I would share with my sons in Scotland one day. Stories that he thought were nothing – but to me, they were everything.
* * * * *
Linda Stuart is a Life-Cycle Celebrant / Ceremony Officiant in Toronto, Ontario.