Mia entered the world on March 11, 2015, with, according to her mom, a "slightly ridiculous big crinkly-nosed smile." Her parents, Melissa and James, came to me with wishes for a modern baby naming ceremony to honour their pretty little girl and to appoint four very special "guideparents" to mentor her.
In addition to welcoming their daughter to their family, it was important to James and Melissa that Mia's guideparents know precisely why they were asked to play such a significant role in Mia's future. Each brought gifts, talents, and experiences that would impact this little girl's life. Melissa and James desired a memorable day to thank and honour each of their friends for their admired and respected qualities.
After talking with them about their vision, I was excited to get started. As a Life-Cycle Celebrant, one of my greatest joys is collaborating with parents to craft personal ceremonies for their children. Whether you are welcoming a new child into your family through birth or adoption, and whether you call the ceremony a baby naming or a baby blessing, the intention of such ceremonies is always the same: to welcome children into their families and the wider community.
When my world changed forever and I became a new mom 25 years ago, I would have loved the opportunity to honour my first-born with a baby naming ceremony. Our only choice, so we thought, was a traditional christening and while it was lovely, it lacked the personal and meaningful touches that a celebrant ceremony offers.
For Mia's intimate ceremony, we chose a "World is Your Oyster" theme that included parental wishes and a unique "Pearls of Wisdom" ritual. As Mia's newly appointed guideparents shared their wise words for this darling little girl, they passed around a precious South Sea Australian pearl and blessed it with their warmest wishes. Mia's parents plan to transform this pearl into jewellery to present to Mia as a high-school graduation gift.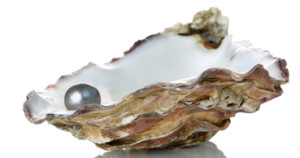 As the ceremony closed, the blazing July sun was no match for the heart-warming sight of little Mia encircled by her community of loving friends and family, making this shared wish for her:
"Mia, the world is yours for the taking — whatever you make of it. And just like a pearl within an oyster, the world is holding a great treasure for you. It is our collective wish that you find that treasure, no matter what or where it is, and have a wonderfully fulfilling and magical life."
"As a result of this touching, meaningful ceremony," Mia's mother Melissa reflects, "we have lifelong memories of welcoming our beautiful baby girl Mia into the world and we set the foundation for strong bonds with her guideparents."
* * *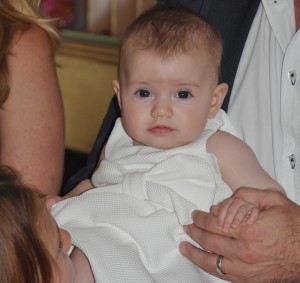 Linda Stuart is a Life-Cycle Celebrant / Ceremony Officiant located in Toronto, Ontario. To learn more about ceremonies for children, contact me.