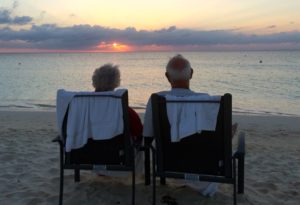 Not much distracts me from my novel when I'm on the beach in Grand Cayman, but I often find myself enchanted with Betty and Doug and their romantic sunset ritual. Apparently, my husband David does too.
"Is that what "Happily Ever After" looks like?" he asked me, as we observed the elderly couple from our beach loungers.
The evening ritual we had witnessed for the past week began like clockwork at 5:30 pm. Doug would drag their beach chairs, one by one, across the soft white sand, bringing them closer to the turquoise water's edge. Carrying towels and their beach bag full of books from the library, Betty steadily followed behind until they were reunited once again in their happy place. Side-by-side and staring straight ahead they would watch as the fiery sun made its spectacular decent into the Caribbean ocean.
It was an endearing scene – in fact, watching their sunset ritual had become a ritual of our own. I've never seen them swim or even walk the sandy coastline but, as Betty says, "every night, we put the beach to bed."
Wanting to know more about their love story and romantic ritual, I mustered up the courage to interrupt their precious beach time one sunny afternoon.
"What is your secret?" I asked the couple who had gone on their first date nearly 65 years ago.
They smiled at each other as they shrugged their shoulders. Doug replied, "We don't really have a secret. We just like to be together and when we are, we make sure we enjoy it."
Their first trip to Grand Cayman was in February 1978 to celebrate their 25th anniversary. They fell in love with the sandy shoreline and their one-week trip gradually expanded over the years to today, when they spend the entire month of February on the picturesque island. Devoted foreign travellers, they've been to over 50 countries in their years together but now, in their mid-eighties, they're content with their annual visit to Cayman. Says Betty, "Cayman is the LAST thing we will give up. In fact, we both want some of our ashes scattered here."
Both avid readers, Betty and Doug typically devour between 15-20 new books each during their month-long stay (mostly non-fiction and history) along with one "classic" novel (this year was Huckleberry Finn.) Preparations start well in advance as Betty keeps a list of potential reads to take on the trip all year long. When they're packed and ready to go, she heads to the local library and signs the winning books out for a month. The usual checkout limit is only three weeks, but since Betty is a "VIP" customer, the library makes an exception.
Continuing a tradition started by Betty's parents after the big stock market crash in 1929, on February 14th they exchange the recycled Valentines they've reused for the past three decades, adding one line each year.
Could simple everyday rituals like Doug and Betty's be the key to sustaining a fulfilling relationship?
Author Robert Fulghum wrote that "Rituals are cairns marking the path behind us and ahead of us. Without them, we lose our way." As a Life-Cycle Celebrant, I understand the importance of both everyday and special-day rituals. Granted "putting the beach to bed" every night may not be feasible for most of us, but a Caribbean sunset is not a prerequisite for feeling present and connected to those we love.
With every passing year, I grow to appreciate the adage that the little things in life really are the big things. Perhaps the rituals that sustain your relationship are quiet morning coffees together, hand-in-hand strolls at the end of the day, or a simple goodnight kiss delivered with intention.
The romantic in me believes that "Happily Ever After" is not only attainable by Disney princesses. Perhaps one day years from now, a younger couple will ask David and me to share our own storybook tale, but for now, it's very much alive on the beach in Grand Cayman.
* * *
Linda Stuart is a Life-Cycle Celebrant / Officiant located in Toronto, Ontario.
SaveSave