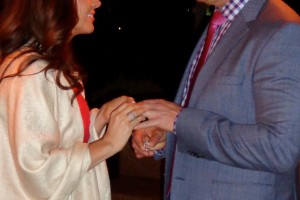 Our 10th Wedding Anniversary was swiftly approaching. And while this self-proclaimed girlie-girl will always welcome bright and shiny anniversary gifts, that year I also hoped for something warm and fuzzy to carry us through the next chapter of our love story. (Shallow confession: I still hoped for something just a teeny bit sparkly.)
I wanted us to renew our vows.
Vow renewal ceremonies are not just for the beautiful people of Hollywood (on the verge of divorce). They're becoming a popular way to honour and celebrate the journey that is marriage. Whether a lavish affair, a casually comfortable gathering shared with family and friends, or an intimate moment for two – saying "I Still Do" out loud can be a powerful way to fuel your marriage for the journey ahead.
Knowing he was not an enthusiastic fan of the overdone celebrity trend, I approached David with trepidation. "Only couples who are attempting to save their marriage renew their vows," he said. "What will people think?"
"Who cares what people think? I'm a Celebrant!" I proclaimed (loudly). "I want us to experience what I offer to other couples."
But David still resisted, insisting that he didn't need to "renew" anything, as he quite vividly remembered his vows from ten years ago. So I tested him. He failed. (Confession: so did I.)
I sweetened the deal with a few creative incentives: a New York City weekend getaway, some lacy new lingerie (for me), and the company of our best friends. He surrendered.
One of the qualities that I find most attractive about David is his dry, quick and witty sense of humour. In that respect, we are a good match as apparently I provide him with heaps of comic material on a daily basis. It was important that we engage an officiant who could balance the lightness and depth in our ceremony.
I contacted a fellow Life-Cycle Celebrant who would be in New York the weekend of our anniversary. I had worked with Cindy before and identified with her warm, humourous and comfortable style. I knew she was the perfect fit for us. Our NYC candlelight ceremony was officially underway.
She sent us each a questionnaire to be filled out independently and returned to her. Questions like:
When did you know you were in love?
What does your partner do that always makes you laugh?
How has your life changed since you met?
What actions of your partner say "I love you?"
What are your hopes for the future?
This exercise inspired us to relive our courtship and identify the reasons we fell in love in the first place. Filling it out, we contemplated our hopes for the future and focused light on the "extra" in our ordinary lives.
A few weeks later, the big day arrived. Candles twinkled brightly in the evening light and the L-shaped terrace had a flawless view of the city that never sleeps. Displayed on the ceremonial table was our framed wedding photo along with an extra special bottle of wine – Lucky Country – that we had been saving for years to open on this occasion.
We kicked things off with a romantic first dance to the recessional music from our wedding: "Someone Like You" by Van Morrison.
Our Celebrant reminded us of the reasons we fell in love as our guests engaged in a ring warming ceremony, passing our rings amongst themselves and infusing them with wishes and love. My heart doubled in size as David recited his vows, proclaiming his love with humour, all over again.
We whispered our wishes for the future into each other's ears, exchanged our newly warmed and blessed rings, and prepared for the wine sharing ritual, which included our special friends and that lucky bottle of wine, rededicating ourselves to the many years ahead.
It was a magical evening – as warm and fuzzy as I had hoped. A little sparkly, even. Hearing our love story from someone else's perspective solidified our reasons for being united. It allowed us to celebrate where we came from, acknowledge where we are, and look forward to our future adventures together.
And David's final thoughts? He's a convert who now recommends the experience to every couple. (Confession: gloating just a little.)
* * *
Linda Stuart is a Life-Cycle Celebrant / Ceremony Officiant located in Toronto, Ontario. To learn more about Vow Renewal Ceremonies or to plan your own, contact Linda.