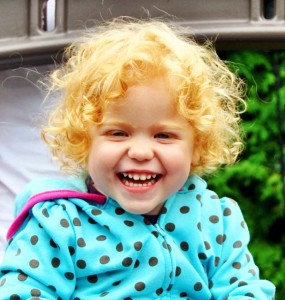 With sleep-filled eyes and a shaky voice, her small index finger extended in my direction. "I…don't…like…you," she announced. Apparently, my plan to win her over with a green stretchy bracelet had failed miserably. Attempting to veil my disappointment, I remembered why I was there and concluded that, under the circumstances, I probably wouldn't like me much either.
It was a gloriously bright October morning in Toronto. Multi-coloured leaves had begun their gentle descent to the ground, a sure sign that my most beloved season had officially arrived. Stella Joy should have been frolicking at the playground or visiting her beloved pigs at Riverdale Farm. But she wasn't. She was at home with her mommies and me.
We were planning her funeral ceremony.
With tenacious hugs, her mothers, Aimee and Mishi, greeted me at the front door of their small Toronto home as if to offer me comfort. It was our first time meeting, their daughter was dying, and yet somehow, in their well of despair, they still had love to share.
Their cozy living room was cluttered with all that was Stella: Stacks of Dora The Explorer books, piles of Sesame Street plush toys, and a heap of soft baby blankets. At first glance, it looked like any other space inhabited by a toddler. But as I continued to scan the room, the evidence of my reason to visit came into focus.
Syringes. Morphine. Sympathy cards.
Stella Joy was two and a half years old. Four months earlier, when doctors had diagnosed her with DIPG – Diffuse Intrinsic Pontine Glioma – she had been given only three months to live. With a 100% fatality rate, DIPG is a rare tumor of the brainstem that almost exclusively assaults children. Immensely cruel, this disease robs them of their motor functions, leading to partial paralysis, loss of voice and sight, and eventually, the ability to swallow and breathe.
She was one of the most beautiful children I had ever met. Porcelain skin, soft orange curls, and eyes that matched the colour of the oceans she would never sail. But though Stella looked like a real live cherub, she was anything but angelic. Feisty, bossy, demanding and, as I had already established, painfully honest. The daycare staff had labeled her "a force to be reckoned with" after her very first day and, over an 18-month period, she had racked up 27 incident reports.
But she was also sweet, hilarious, and unusually compassionate for such a young child. She sat cocooned between her mommies on the comfy couch as we sipped tea and indulged in chocolate Timbits, the family sustenance staple provided daily by her Poppa. She stroked her mothers' faces and wiped away their tears as we discussed readings, rituals, music, and how best to commemorate her short but colourful life.
They wanted dancing and singing and laughter. They wanted vibrant colours and star-shaped candles and bright yellow sunflowers. They wanted a ceremony that represented their spirited, mischievous, unruly daughter and they wanted it all soaked in her middle name: Joy.
But how do you celebrate the life of someone who hardly had a chance to live?
Aimee and Mishi told me they didn't want Stella's funeral to be sad. It sounded impossible. The tears that had been collecting rapidly behind my eyelids travelled down my cheek and landed on my journal.
How could this not be sad?
Overwhelmed by the task at hand, I wondered how I could possibly help this family when their only wish was for their daughter not to die.
I looked up from my overflowing notebook and caught a glimpse of something in their eyes: Hope. Not hope that Stella wouldn't die. Not hope that this was all just a bad dream. But hope that this celebratory "Ceremony of Love" might begin the long journey toward healing and transformation.
In that moment, I understood my purpose.
When we said our goodbyes, I was once again gifted with hugs – even a little one from Stella.
As I headed down the street to my car, the autumn leaves crunched beneath my shoes and I attempted to absorb the enormity of what I had just experienced. I had no idea then the impact that my future journey with Stella would have on me as a mother, a Life-Cycle Celebrant, and a human being. But I did know that my heartstrings would forever be tethered to this child and her family.
The seasons had changed. And so had I.
* * *
Linda Stuart is a Life-Cycle Celebrant / Ceremony Officiant located in Toronto, Ontario. If you are part of a group that would like to learn more about Stella's Story, please see here for information on "Stella's Story – The Presentation."
You can read more about Stella and her ordinary, extraordinary life here:
https://www.thestar.com/news/gta/stella.html
SaveSave